MOMOTARO Bacteria House 10kg
【The effect of a bacteria house】


Patent acquisition




A bacteria house makes many bacteria which clean water live, and maintains water freshly.
A bacteria house has many holes far compared with the conventional filtration, and the adhesion area of the feature of bacteria is large.
Therefore, many bacteria adhere.

New Bacteria House




The material is same as old tipe but new one has Hole at center of the Bacteria House that make more Surface area!
Moreover, since a large number a big hole, water permeates to an inside and raises sufficient filtration effect.

Adhesion of bacteria appears clearly in about about three weeks after installation of a bacteria house, and an effect shows up.
In the hole of the size of a bacteria house, and a static electricity-action, floating matter is caught effectively and they are decomposed promptly. The transparency of water rises in a bacteria house.
| | |
| --- | --- |
| | |
| Bacteria house image | Bacteria house sectional view |
【Far-infrared rays effect】
Ceramics calcinated above 1300 degrees C,
A bacteria house takes out abundant far-infrared rays.
Consequently, the cluster of water becomes small and taking in of youzai oxygen goes up.
It is the combined use with Momotaro Air Explosive Shower, and a wonderful effect is demonstrated.
A fish eats food well at the same time the activity of bacteria goes up.
※Cluster
Usually, some molecules of water solidify and water exists.
so that the soul of the molecule is called cluster and a cluster is small -- water -- living -- living -- it is .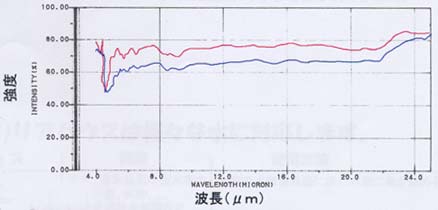 RESOL
SCANS
AMPQAIN
P.INT
BEAM
S.SPEED
S.NUMBER
M.DATA
:16a-1
:200
:x64
:8cm-1
:alngle
:MCT
:3
:2/28/2
blue line is Bakuhanseki,


red line

is Far-infrared radiation intensity of a bacteria house


It can be said that far-infrared radiation is high, so that it is close to 100%.


The bacteria house of a maximum of 324 L can be installed in one step of Momotaro Air Explosive Shower.
Of course, even if I have you use it for the conventional filtration tub, it is preeminent for an effect.
The details of Momotaro Air Explosive Shower from here.